What Is Cybersecurity? was originally published on uConnect External Content.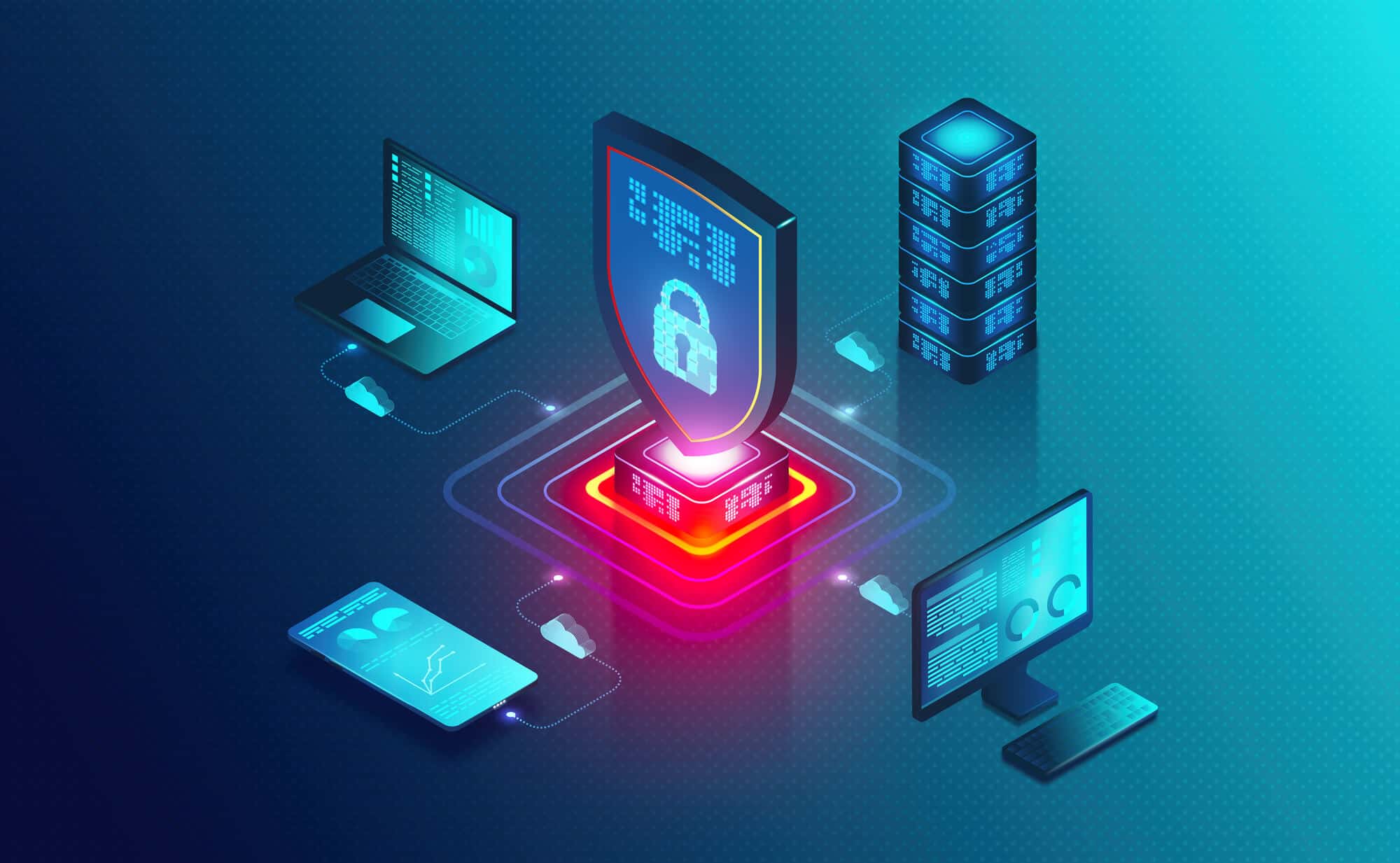 By 2025, total global data storage will likely reach 200 zettabytes (one zettabyte = one trillion gigabytes!). And 90% of the population over age six — that's 7.5 billion people — will be generating data online by 2030.
While the convenience of our hyper-connected lifestyle is indisputable, it comes with significant risks, like identity theft and financial loss. Fortunately, the field of cybersecurity has evolved to protect networks, systems, data, devices, and programs from criminal use and digital attacks.
Ready to learn more about what cybersecurity is and how to get into this fast-growing field? Here's what you need to know.
Cybersecurity Definition
"The means by which you protect (secure) the confidentiality, integrity, and availability of your people, processes, technologies, and data is cybersecurity," explains Jackie Flores-Bochner, director of information security and risk management at Johnson & Johnson and Forage program consultant.
Cybersecurity began in the 1970s with the creation of the first antivirus program (Reaper) that chased down and destroyed the first computer worm (Creeper). Since then, it's grown into a trillion-dollar industry that's becoming increasingly crucial every day.
>>MORE: Mastercard Cybersecurity Virtual Experience Program
Why Is Cybersecurity Important?
With well over 800,000 cybercrime complaints — and nearly $7 billion in losses — reported to the FBI in 2021, cybersecurity is a must-have for today's businesses and consumers. And considering that only an estimated 10% of cybercrimes are even reported, the potential impacts on companies and individuals are astronomical.
"The digital era has revolutionized the way we do business, but with that we've introduced new types of risk, including cybersecurity," says Flores-Bochner.
And the number of crimes and losses will keep increasing over the years. According to Cisco's 2022 Cybersecurity Almanac, cybercrime costs will likely reach $10.5 trillion worldwide in 2025, more than three times the cost in 2015.
"If we want to continue pushing the envelope and developing newer, faster, and more efficient ways of working through the use of technology, we need to be mindful of how we are going to secure ourselves while we do that," Flores-Bochner notes. "A business can invest significant time and resources into new processes and technologies but if they don't build in security from the beginning then the repercussions down the road can be costly."
Fortunately, companies are allocating the necessary resources to cybersecurity. In fact, 50% of large companies with more than 10,000 employees spent at least $1 million on cybersecurity in 2021. And some spend much more. For example, JPMorgan spends $600 million per year just on cybersecurity to protect its clients' sensitive information.
>>MORE: JPMorgan Chase & Co. Cybersecurity Virtual Experience Program
Types of Cybersecurity
Although cybersecurity can take many forms, there are several main categories:
Application security: This is the process of keeping applications secure by developing, deploying, and testing security features in software.
Critical infrastructure security: This aims to limit critical infrastructure vulnerabilities related to servers, data centers, network communications, and IT centers.
End-user behavior: Providing education and cybersecurity training to end-users on device security, phishing scams, and other potential threats can prevent cyberattacks.
Information security: Also called InfoSec, information security is the tools and processes used to protect sensitive business information and data from disruption, destruction, and modification.
Internet of Things (IoT) security: IoT security aims to prevent cyberattacks that target network-connected physical IoT devices — anything with a sensor that can transmit data over the Internet. There will likely be around 75 billion IoT devices by 2025, up from 31 billion in 2020.
Network security: This type of security protects computer networks from malware and other cyber threats.
Ideally, businesses should develop an overall security strategy that takes into account all the different aspects of cybersecurity and types of threats.
>>MORE: SAP Cybersecurity Virtual Internship Program
Types of Cybersecurity Threats
The goal of a cyberattack is usually to access or destroy sensitive information, extort money, or disrupt business processes.
"The challenge with cybersecurity is that you can compromise security through almost any means — it's not just hacking a system which is what most people think of," says Flores-Bochner. "You can leak sensitive information to the public or change data to damage the reputation of an organization. You can even bring down a system or hold data for ransom and make it unavailable, which ultimately leads to loss of revenue for some companies."
While there are many types of cyberattacks, these are some of the most common:
Malware: Malware is malicious software created to disrupt and damage a computer. Malware often spreads via downloads or email attachments and includes viruses, spyware, adware, and more.
Phishing: These fraudulent emails appear legitimate and are intended to steal information, like login details and credit card data.
Ransomware: This type of malicious software locks and blocks access to files and data until a ransom is paid.
Social engineering: Attackers use manipulation and lying to get people to give up personal information via phone, text, email, and social media posts. Phishing is a type of social engineering attack.
>>MORE: Telstra Cybersecurity Virtual Experience Program
What Does a Cybersecurity Professional Do?
Because it's such a growing field, the cybersecurity career path includes opportunities for a variety of jobs, such as working as a security engineer. But what precisely do cybersecurity jobs involve?
"At the end of the day, a cybersecurity professional's job is to build and execute processes that will minimize the cybersecurity risk to an organization," says Flores-Bochner. "Whether we are performing penetration tests to see if our company has built an effective and secure environment or if we're developing training and awareness programs for non-technical business leaders — a cybersecurity professional is focused on protecting the company."
>>MORE: AIG Shields Up: Cybersecurity
How to Get Into Cybersecurity
Cybercrimes are on the rise, and as the world's technological capabilities increase, so will the number of attackers trying to take advantage of companies and individuals. Fortunately, that means jobs in this field should be plentiful for many years.
However, It's not always the easiest career to get into. "For the shortage of talent we have in security, you'd think it'd be easier to break into the field," says Flores-Bochner. "Unfortunately, given the complexity of the profession, it is a bit of a challenge to get started."
The good news? With the right combination of education, skills, and experience, you can work your way into a cybersecurity career.
Find your career fit
Discover if this is the right career path for you with a free virtual work experience.
Education
Because of the need for specialized knowledge, a technology-related major can be enormously helpful, especially if it includes cybersecurity training.
"Degrees in computer science and management information systems tend to be what I see, but with the increasing demand, I'm seeing that more universities are offering cybersecurity-specific degree programs," says Flores-Bochner.
Skills
Hard skills, like IT knowledge, are crucial for cybersecurity careers. In fact, Flores-Bochner says information technology is one of the foundational skills for any cyber professional.
"Almost every cybersecurity professional I know did some time as an IT help desk analyst, network engineer, or something similar," she continues. "Understanding technology and the different layers that could be compromised is incredibly key to be successful as a security professional."
>>MORE: PwC Cybersecurity Virtual Experience Program
Work Experience
While education and skills are essential, work experience can make all the difference when it comes to breaking into cybersecurity.
"Internships are incredibly important," says Flores-Bochner. "Nothing beats hands-on job experience, and the best way to do that is through an internship. It doesn't have to be with a big company either — I often find the best internships are with smaller companies where you get wider exposure to their security teams and strategies."
Flores-Bochner also recommends cybersecurity bootcamps and certifications to gain the skills and experience needed to get into this field.
Ready to get the foundational knowledge and skills you need for a cybersecurity career? Check out Forage's tech virtual experience programs.
Image credit: ArtemisDiana / Depositphotos.com
The post What Is Cybersecurity? appeared first on Forage.